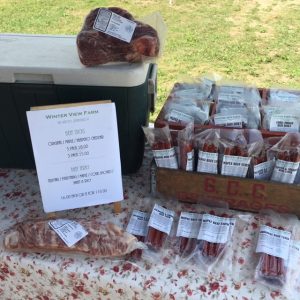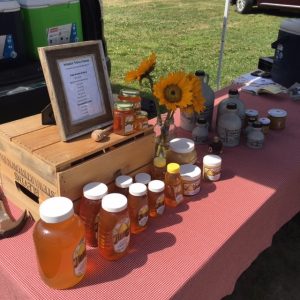 Regular vendors at the Springfield Farmers' Market are (alphabetically):
-Briar Patch Farm:  fresh local produce, organically-grown;
artisan breads, jams, jellies, pickles, relishes.
-Country Chic Flowers:  flowers, plants, floral arrangements.
-Critter Crossing Acres:   eggs, pies, doughnuts, cookies
-Eden East:  hats, scarves, hand-crafted jewelry
-Erwin Designs:  original art, unique gifts, home décor
-Happy Dogs Tees:  authentic, hand-crafted batik clothing
-Hennessey's:  hand-spun and woven fabrics, jewelry
-Pink Lady:  confections, cakes, breakfast sandwiches
-Winter View Farm:  naturally-raised pork and beef, maple products, hand-made beeswax candles, natural honey, meat snacks.